Newcomers to Canada bring diversity to the country. They also provide professional services and skilled labour, which helps to fill gaps in the economy. In Canada, the population is aging and birth rates are down, this means Canada needs new people to continue to grow and flourish. The following immigration resources will provide new Canadians the support you'll need to settle in Canada.
The Power of Labour Marketing Information
When planning to move to Canada you'll probably want to research where you'll be happy living and working. Labour market information is a great starting point to finding out more about eastern Ontario, like wage and cost of living information. Before you even arrive in the country you can find out what type of work you can get here. Organizations such as the Labour Market Information Council (LMiC) host a job search resource, the Canadian Online Job Posting Dashboard - LMIC-CIMT, so newcomers to Canada can easily search for jobs based on location and skill set.
Eastern Ontario municipalities, like Peterborough, offer helpful resources for newcomers to Canada, helping immigrants and international students find out:
What the requirements are for immigration,
How to apply for immigration programs, and
How to find jobs and qualify to work in Canada.
The Lanark-Leeds-Grenville region offers immigration resources to help you start planning your life in the eastern Ontario region with help like:
An arrival checklist,
Where to learn English as a second language,
How to find a job.
You can even find weather information so you're prepared for all four Canadian seasons.
Local Help for Newcomers to Canada Once You've Arrived
Adjusting to life in Canada is easier if you have help. Here are three programs in eastern Ontario that can help you get started:
In the

New Canadian Centre

in Peterborough, immigrants and refugees will find language classes, job finding assistance and social gatherings to help meet Canadian neighbours and others who are new to Canada.


If you're a temporary foreign worker you can apply for a work permit if you've been offered employment by a Canadian employer through the

International Mobility Program

(IMP). The IMP helps employers hire temporary workers without a Labour Market Impact Assessment (LMIA) streamlining the process for you both. You can

find out if you fit the criteria

laid out by the North American Free Trade Agreement (NAFTA), the Canada-European Union Comprehensive Economic and Trade Agreement (CETA) and the C20 program for multinational firms.


Programs like

Local Immigration partnerships (LIP)

provide newcomers to Canada with information about what communities have to offer through data related to housing, wages, and quality of life. LIPs work to improve the newcomer experience in eastern Ontario and address service gaps.
Immigration Resources to Help You Find a Job in Eastern Ontario
Once you're in Canada you'll want to know where to access good jobs and training so you can find work faster. The YMCA offers a few different immigration-based support programs to make the relocation process as easy as possible. Connect with the YMCA to get:
Immigration and citizenship information and application assistance,
Information and referrals to resources/services,
Connected with settlement workers who work with you to start your life in Canada,
Information on education,

employment and training opportunities

,
Language assessments and class referrals and translators.

The Brockville-based Employment and Education Centre (EEC) helps new Canadians, especially students, find work in the region. People like Teanne Larocquethe, the EEC Employer Services Manager work to connect students to jobs. Along with the youth employment initiative, EEC helps adults find work, provides skills training opportunities and works with employers to fill job gaps in their region.
You might have come across challenges finding a job in Canada as an international student. The3Skills.com is an organization that helps international students find good jobs in Canada that both use their hard-earned education and fulfill career goals. As an international student you can look to The3Skills to help you:
Get a job that qualifies for permanent residency, and
Overcome the challenges of application rejection and perceived lack of 'Canadian Experience' when you're applying for work.

Immigration Resources Connect Employers With Skilled Workers
Having a job once you've arrived in Canada depends on the quantity and quality of jobs. That's why employer-based programs are an essential part of immigration resources. Here are four programs that help businesses find workers they need to help improve production and expand their business:
These resources mean that you are not alone if you are considering a move to Canada. For more information about the quality of life in eastern Ontario, download this Infographic.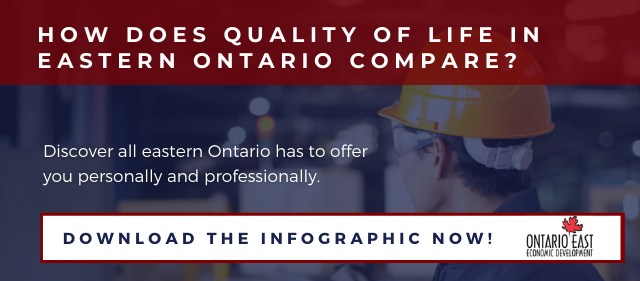 External links are provided as informational resources only and are not necessarily endorsed by Ontario East.

References:
https://welcomepeterborough.ca/before-arrival/how-do-i-immigrate-to-canada/
https://lmic-cimt.ca/canadian-online-job-posting-dashboard
http://www.leedsgrenvilleimmigration.ca/
https://www.canada.ca/en/immigration-refugees-citizenship/services/work-canada/hire-temporary-foreign/international-mobility-program.html
https://www.canada.ca/en/immigration-refugees-citizenship/corporate/publications-manuals/operational-bulletins-manuals/temporary-residents/foreign-workers/exemption-codes/intra-company-transferees.html
https://www.ontario.ca/page/regional-immigration-pilot
https://www.canada.ca/en/employment-social-development/services/foreign-workers.html
https://www.ontario.ca/page/rural-economic-development-program