Manufacturing employs 65,000 people in the eastern Ontario region alone, helping to make it a prosperous sector for Ontario. Careers vary widely and provide excellent pay and security, and the region is an increasingly popular alternative to the big cities.
STUFF Magazine Showcases the Perks of Manufacturing Jobs
STUFF magazine showcases the things that are made and built in eastern Ontario, as well as how you can find a career in manufacturing. You can download STUFF magazine easily from their website. The latest issue details the benefits of working in the manufacturing sector, the exciting jobs available now, and how employers can attract the next generation of workers to their companies.
Learn how much money you can make in high demand manufacturing roles, as well as what you'll get to work on every day. The industry is chock full of exciting products, technology and opportunities that will have you
learning every day,
working with high-tech tools and software,
contributing to the local economy, and
feeling challenged yet accomplished after a fun and fulfilling day at work.
You may not have thought of eastern Ontario for your next career, but the STUFF magazine article highlights the surprising benefits of leaving the city. Here's just a taste:
shorter commute times
more disposable income
Manufacturing Business Strategies Unveiled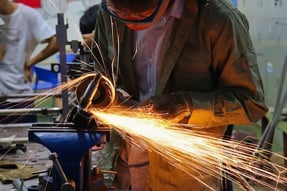 STUFF magazine also details strategies for business owners to attract the next generation of employees to their company. By downloading the magazine, you can get actionable steps that will help promote your business and culture to your future workforce.
In addition, you can read about how the Eastern Ontario Manufacturing Workforce Development Project (EOMWDP) is working to promote manufacturing and its training pathways to youth as a first-choice career. The project is working with stakeholders at all levels to maximize the talent pool available to you.
You'll Be Amazed at What's Manufactured in Eastern Ontario
From baseball bats to broadcast recording equipment and even optical devices used in outer space, the eastern Ontario region is home to a wide variety of high-tech manufacturers. Catch a glimpse of the products produced every day in the region by watching this short video.
References: