Many entrepreneurs, whether they are new business owners or have been in operation for a while, don't know about all of the opportunities and programs on offer to municipalities and businesses. If you're one of them, keep reading! If you've ever had to ask: what is a workforce development specialist? Or, if you've never even heard of one before, this article will answer those questions and let you know what a workforce development specialist can do for you in Ontario East.
What Is a Workforce Development Specialist?
A workforce development specialist will:
connect employers with qualified employees
know about the skills and careers employers need in their area
know where employers can find job seekers with those skills
often specialize their focus on working with newcomers to Canada
identify the skills gaps in your workplace
build connections with other employment services for the benefit of job seekers and employer
help job seekers find careers
Workforce development specialists help employers make sense of labour market information (LMI) to help implement more effective hiring policies and practices. In the region, there are four LMI Help Desks you can use to collect data about the workforce:
In Ontario East, there's a large network of workforce development specialists business owners can work with. Here are just a few: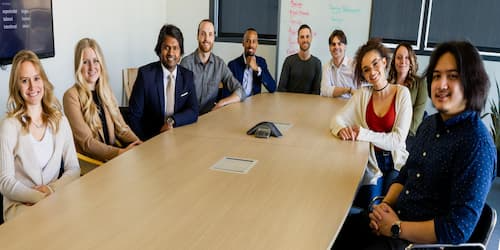 Ontario East has created three workforce development committees to share ideas, resources, and provide solutions for the workforce issues facing the region to:
make hiring in the region easier, with more qualified candidates through the

Skilled Trades Committee

share best practices through the Advisory Committee
attract and retain new Canadians to the region with the Immigration Committee
If you have something to contribute to these committees, contact us here:
In summary, a workforce development specialist can help you get the most out of your business and your employees.
If you're starting a business in Ontario East or are already in business in Ontario East, make sure you reach out to us, one of the workforce organizations listed above, your municipality, or an economic development officer (EDO) in your area. If you're looking for more resources to help you get the most out of your business, check out these resources to get help with recruitment. And the next time you hear someone ask, what is a workforce development specialist anyway? Share this article!
External links are provided as informational resources only and are not necessarily endorsed by Ontario East.