In manufacturing, technology is constantly improving processes and moving your business forward. Training your employees can have the same effect on your recruitment and retention efforts. When you invest in good training, it's easier to keep your people happy at work and constantly learning.
3 Ways to Optimize Training for Manufacturing
To take your manufacturing training efforts to the next level in support of your employees' development and your bottom line, there are three key areas that you should focus on.
1. Invest in Adaptive Learning Technology
Adaptive Learning adjusts to every person in the training program by focusing on reducing redundant learning. As a platform, it's incredibly diverse. You can facilitate lifelong learning for your employees and, since Adaptive Learning is software-based, the training can be done at their convenience.
You no longer need to organize in-person training sessions that disrupt everyone's projects and workflow. You can instead give employees autonomy to complete modules as and when they see fit, which they'll greatly appreciate.
2. Adjust Training to Maximize Recruitment and Retention
By investing in training for manufacturing employees, you'll help them feel more confident in themselves. The training will reduce accidents and mistakes, saving you money. Current employees appreciate the opportunity to continue to learn and to feel like they are being invested in. Retention is often helped by ensuring that employees have what they need to be happy at work.
Transfer the same sentiment to your new employees. Investing in training gives them the skills they need to succeed early on in their job. Many people seek out challenging and constantly changing careers so that they are always learning. Use the technology and fast-paced environment that are a feature of manufacturing as a selling point for future employees. Add your training initiatives to all job postings, and include them in company blog posts about culture, workplace and recruitment.
3. Revisit Your Onboarding Training to Attract New Talent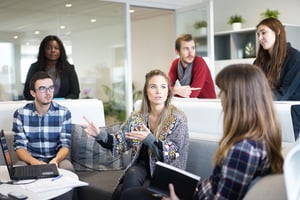 Onboarding training is another area where you can ensure your new employees are enjoying the experience. In fact, 69% of new employees are more likely to stay with a company for over three years if they had a positive onboarding experience.
Onboarding efficiency is key to ensuring new employees retain critical job information; it's also key to minimizing the amount of time new employees spend in the training process, which saves you money. You need to have streamlined processes in place that keep the employees' attention, specifically by:
Personalizing the training experience

Automating where possible

Making the experience fun
Optimizing your onboarding training will not only make your new employees more successful, it can also be used as a selling point in your job descriptions. If training is done well, current employees will also recruit their friends and past colleagues for you, due to their positive experience in a new workplace.
Dive Deeper into How You Can Further Your Recruitment Efforts