Ontario East is filled with skills development programs to help job seekers find sustainable employment while giving local employers access to a reliable and highly-skilled workforce. Right now, job seekers can access apprenticeship programs, co-op programs to learn new skills and get on the job training. Loyalist College's Elevate Plus program helps Bay of Quinte residents who want to upskill or reskill to enter the local manufacturing or food processing sectors. The Quinte STEP program offers online training in the form of 3 weeks of soft skills training followed by 8 weeks of free training or certification in specialized sectors.
Who Benefits From STEP?
Both employers and job seekers can benefit from STEP.
Employers: become a STEP program partner to become a part of the training process.
Job Seekers: eligible job seekers (see eligibility factors below) will learn to recognize their own unique skills, create effective resumés and cover letters, and refine job interview skills through online training on top of sector specific training.
Currently, STEP prioritizes placing unemployed citizens, permanent residents, refugees, and CUAET newcomers.
Who's Eligible?
If you're a job seeker interested in STEP you must be:
unemployed or underemployed (working fewer than 20 hours a week)
looking for work in the Quinte area
a Canadian citizen or permanent resident

international students, those with protected persons status, and Ukrainians arriving through CUAET are ALL eligible

living in the southern eastern Ontario region
18 years of age or older
achieved an English language proficiency minimum CLB4
Please note: Unfortunately, employed persons are ineligible, only persons with precarious employment. Regular temporary residents in Canada on work permits are also ineligible, anyone who is on a work permit but is not an international student or displaced person. Please contact STEP to learn more.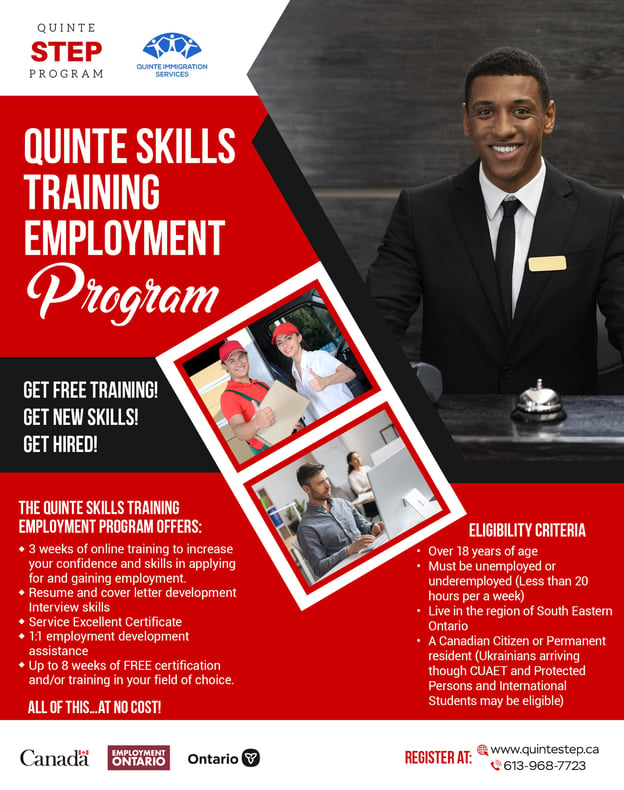 Online Training Perks
For the first 3 weeks of STEP, participants get free soft skills online training, the perks of which include:
receiving career advancing training from the comfort of your own home
recognizing your transferable skills so you'll always be able to plan your career path
improving your cover letter and resumé writing skills so your application goes to the top of the pile
job interview skills to wow your next employer
Discover More Online Training and Skills Development Resources
Bookmark the Skills Training Resource Guide.
External links are provided as informational resources only and are not necessarily endorsed by Ontario East.