Things have shifted a lot in the world recently, from jobs to housing, creating the need for many people to consider relocating. Especially in larger centres, the high cost of living is just not doable anymore. If you've experienced a reduction in work hours or complete job loss, the situation may feel even more dire.
When anyone considers relocating, job availability is as important as cost of living, nearby amenities, and work/life balHiance. If you are looking to move out of the GTA or just doing some research before you make the decision, be sure to check out the entire package of the area you will move to.
From Northumberland, Peterborough, and Kawartha Lakes in the west to Stormont, Dundas & Glengarry and Prescott & Russell in the east, eastern Ontario extends north to Haliburton, Nipissing, and Renfrew. You'll find the eastern Ontario region along the shores of Lake Ontario, encompassing over 200 communities, thousands of businesses and nearly two million residents.
One of the Best Places to Live Outside Toronto
Here are 9 reasons why the eastern Ontario region is one of the best places to live outside Toronto:
1. Exciting Job Opportunities
The eastern Ontario region is a thriving hub for many growing industries that are an important part of the Canadian economy. The many companies expanding in and relocating to eastern Ontario mean you can find a stable, long-term job with a reliable paycheck doing work that really matters. You could be creating parts for the auto industry, manufacturing aerospace and defence technology, or helping to keep healthy food in local grocery stores with leading edge food processing equipment. Other opportunities exist with business services, tech sector, and logistics and transportation companies.
2. Upskilling and Reskilling Programs
Don't worry if you don't feel qualified for any of these great jobs. The eastern Ontario region has several short-term training programs, such as Elevate Plus, to upskill and reskill job seekers. There is also support available to help with resume writing, job search, and interview preparation. Many programs, like Career Edge, have services to match job seekers with employers who are looking to hire immediately. There are already lots of jobs needing to be filled in eastern Ontario, just waiting for qualified candidates to apply. With the right training program, you can be qualified in a matter of weeks. Ontario East is happy to connect you with local opportunities. Many programs even include on-the-job training, eliminating the need to job seek altogether.
3. Affordable Cost of Living
The cost of living and price of housing are much lower in the eastern Ontario region than in larger cities, which makes it one of the best places to live outside Toronto. According to Statistics Canada, approximately twice as many people buy their homes as rent in the region. You will be able to find a comfortable home on a nice parcel of land with a backyard for much less than you would pay in a larger centre. Make one of the over 200 communities in the eastern Ontario region home to experience the neighbourhood feel of rural living.
4. Shorter Commute Times
Compared with commuting times in the GTA, getting to work in the eastern Ontario region will take you a lot less time. Commutes are often on scenic, two lane highways, though the 401 is centrally located and can cut the driving time even further should you need to drive between communities. There is also little to no commute for all the activities you want to do after work: hiking, meeting friends or picking up takeout.
5. Family-Friendly Activities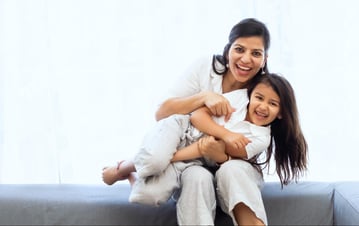 With family-friendly activities for every season, you'll love raising your kids in the eastern Ontario region. Get them out and active with sports, festivals, parks, and trails. With a softened climate thanks to the "Lake Effect" of nearby Lake Ontario, you can enjoy spending time outdoors during all four seasons. Nearby Ottawa and Toronto are easy weekend trips.
High-quality healthcare is available for the whole family with several area hospitals plus local medical clinics who are always willing to take new patients.
6. Military Jobs and Infrastructure
8 Wing/Canadian Forces Base Trenton and Garrison Petawawa are two of Canada's largest and busiest bases, and the hub of the country's Royal Canadian Air Force air mobility operations, and the home of Canada's Chinook fleet. Both continued invest in infrastructure and provides many area jobs and quality improvements to the eastern Ontario region, such as roads and bridges. Military personnel find it a very welcoming community; you will too, whether you have a young family, are a retiree, immigrant or even military post-service.
7. Healthy Outdoor Lifestyle
The beautiful Canadian Shield landscape with lakes, rivers, forests, trails, and provincial parks provides many opportunities to get outdoors and get active. The waterfront lifestyle of Lake Ontario and the many smaller lakes makes four-season outdoor recreation fun. Enjoy the scenic eastern Ontario region while swimming, boating and fishing, or snowmobiling, snowshoeing and ice fishing. Try golfing, or cross-country or downhill skiing. Explore the Eastern Ontario Trails Network - over 500 km along Lake Ontario's shoreline, with lots of waterfront biking paths.
8. Education
Every level of school is easily accessible to all ages and abilities, making the eastern Ontario region one of the most highly educated and employment-ready regions. Primary and secondary schools for your children are available in both official languages. Colleges and universities nearby supply highly skilled employees to the region. Adult and Continuing Education Centres are specifically focused on business training and upskilling. Targeted short-term courses and industry partnerships get people qualified and into jobs quickly.
9. High-Quality Work/Life Balance
The relaxed rural lifestyle leaves more downtime for leisure activities, creating a high-quality work/life balance so you have time to rest and recharge throughout the week. But don't confuse eastern Ontario with just sleepy small-town living. The middle class is the norm in eastern Ontario. There are also thousands of businesses, shops, and services in the region, with a variety of entertainment, shopping, arts, culture, food, and beverages. From family-friendly diners to cozy vineyards and waterfront restaurants, you'll find many ways to spend your downtime.
Eastern Ontario Region Has the Best Places to Live Outside Toronto
The eastern Ontario region is home to many of the best places to live, work, and play outside Toronto. With great employment opportunities, affordable cost of living, high-quality work/life balance and all the amenities you want and need, now is a great time to make the move to one of eastern Ontario's welcoming communities.
To learn more about how you can experience the high quality of life in the eastern Ontario region, download the infographic.
External links are provided as informational resources only and are not necessarily endorsed by Ontario East.