Ontario's food and beverage processing sector is the largest in Canada, making up 37% of the industry's revenue in the country. There are lots of jobs in the food processing sector, which employs more than 95,000 people. Food processing in the eastern Ontario region accounts for 2% of the province's GDP. Meat processing represents 21% of the sector; beverage and bakeries represent 19% and 12% respectively. We're highlighting three manufacturing companies in the eastern Ontario region that are thriving in the food processing business so you can learn first-hand how varied and interesting the industry is.
1. Ontario Agri-food Venture Centre (OAFVC)
OAFVC is a commercial kitchen/food processing centre that was designed with small farmers in mind. It's a non-profit facility that provides safe production, food storage, and packaging and development assistance.
OAFVC's facility also helps "foodies" with recipe development. Staff work with food processing start-up companies and expansions to help with research and development, test batches, and to facilitate small-batch co-packing.
By offering a facility where small/niche-batch processing and packaging of local fruits and vegetables is possible, OAFVC supports and helps advance the sustainable local-food economy.
OAFVC is located close to the 401, which is part of the major trade route through the most densely populated portion of Canada: the Quebec City–Windsor corridor. So not only can the farmers and foodies process their products locally, they also have access to the supply chain across Canada.
2. Lanthier Bakery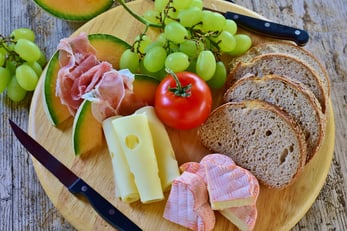 Started in 1932 and family run, Lanthier is now one of the largest independently owned commercial bakeries in eastern Ontario. Lanthier takes pride in supporting their local community and hires skilled workers from the eastern Ontario region as much as possible. Lanthier currently employs 95 people.
Lanthier is a highly innovative bakery; to stay competitive, it recently invested $2 million to expand, renovate and modernize the digital production line in its plant. With this expansion, Lanthier expects to hire another 15 workers, bringing its number of employees up to 110 - great news for people looking for skilled jobs in eastern Ontario.
Lanthier sells Betty Bread, which includes enriched white and whole wheat bread, sandwich buns and rolls, sandwich and crusty breads, and specialty breads too.
3. Glengarry Fine Cheese
Specializing in artisanal cheese, Glengarry is a fine cheese shop in Lancaster, eastern Ontario.
Margaret and Wilma Peters-Morris make high-quality cheeses from cow's and goat's milk that is produced at the dairy across the street from their factory. They contribute to the local community by increasing the demand for cow and goat milk in the eastern Ontario region. They also encourage people in the community to create their own fine cheeses by teaching them how to do it.
Glengarry fine cheeses are sold all over Ontario: from small local stores such as 13th Street Winery in St. Catharines to Loblaws in Ottawa and Toronto, to name only a few.
When Margaret and Wilma are not in the plant making cheese, they are gardening, tending to animals on the farm, and riding their horses. They are outdoors people, but when it's production day, they come inside to stay with the vats.
Margaret and Wilma thoroughly enjoy developing quality cheeses, and sharing their knowledge with other cheesemakers in order to see the varieties of cheeses offered by Ontario producers expand.
Discover More About What Eastern Ontario Has to Offer
External links are provided as informational resources only and are not necessarily endorsed by Ontario East.
References:
http://tasteyourfuture.ca/app/uploads/2019/01/Ontario-LMI-report_-final_rev.pdf
https://www.newswire.ca/news-releases/lanthier-bakery-will-increase-its-productivity-through-the-purchase-of-equipment-860130284.html