You may think of manufacturing as a not-very-environmentally friendly industry, but there are many ways manufacturing is going green. Manufacturing plants new and old are recreating their ways of doing business, and starting new manufacturing trends to help save the planet. We want to highlight 3 ways the industry is becoming more environmentally friendly so you can be a part of saving the planet too.

3 Sustainable Manufacturing Trends for Going Green
1. Updating Facilities to Target Energy Waste in All Its Forms
Inefficient machinery can consume up to 70 percent more energy than it needs to, so a focus on an energy-efficient plant helps manufacturers reduce their energy consumption and costs.
Other areas where manufacturing plants can become more environmentally friendly is in their heating and cooling systems. They can invest in renewable energy solutions, such as geothermal heat, and wind and solar power.
2. Reduce, Reuse and Recycle
Reducing waste and using raw materials more efficiently is a perfect example of how manufacturing plants use less and waste less.
Whether they are using wood or metal, plant processes can be refined to only use what's absolutely necessary to produce the materials they create.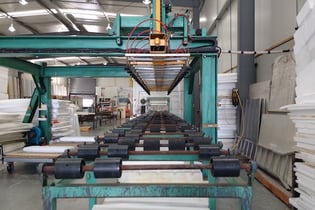 Instead of a lot of excess ending up on the plant floor as sawdust or metal clippings, which then become waste products, plants can streamline their processes to create much less waste, reducing the environmental impact of their work.
Manufacturers can also use more sustainable products in the first place, such as bamboo that is a faster-growing wood source, and sustainable hardwoods grown in forests maintained for their natural balance of tree and plant diversity.
Many manufacturers are using recycled products as the base of their own products, cutting down on waste right from the get-go.
Manufacturing plants can use environmentally friendly products, such as biodegradable plastics, so the waste they do produce can be broken down more quickly leaving less of an impact on the planet.
3. Lean Production
Practised since the 1980s, and introduced by the Japanese, lean production is a purposeful and never-ending practice of minimizing waste in manufacturing without sacrificing productivity.
So not only does this practice make a manufacturing plant more efficient overall, but it also drastically reduces the footprint the plant leaves on the planet by creating substantially less waste.
Now more than ever being sustainable means manufacturing can and is contributing to saving the planet by going green.
So don't write off manufacturing for not being green enough. Saving the planet for ourselves and future generations is important to you, and working in manufacturing can help you be a part of saving our future world to come.
Learn About More Manufacturing Jobs That Can Help You Save the Planet
External links are provided as informational resources only and are not necessarily endorsed by Ontario East.
References:
https://www.dg.ca/blog/5-ways-the-manufacturing-industry-is-going-green
https://home.howstuffworks.com/home-improvement/home-diy/flooring/5-sustainable-hardwoods.htm
https://www.tutor2u.net/business/reference/introduction-to-lean-production