This is a guest blog post by Lisa Steudle of EMC (Excellence in Manufacturing Consortium).Labour Market Intelligence (LMI) available at the national, provincial and regional levels - ManufacturingGPS is powered by data from over 2,500+ Canadian manufacturers and 100+ post-secondary institutions; which is by far the largest pool of manufacturing LMI data of its kind in Canada. But the question is, what is the story that LMI is telling us? Data is great to have but until we dive into the details, it's really just a lot of numbers. So let's dive into data for Eastern Ontario, pulled from ManufacturingGPS unless otherwise stated, and see what we can learn; spoiler alert – you're not alone in your struggles.
The Changing Workforce
The majority of the manufacturing workforce in Eastern Ontario falls in the age range of 36-54 (50% of employees) with another 21% over the age of 55.
That's a total of 71% of employees falling over the age of 35.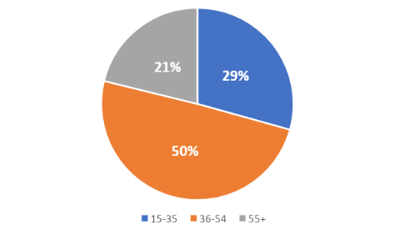 The majority of this group is made up of Generation X; those born in the early 60s to late 70s. Generation X can be viewed as being established and having a significant amount of experience in the workforce. However, this population isn't growing and is going to continue to head closer to retirement; causing a need for organizations and human resource departments to identify new opportunities for populations to target for recruitment. Eastern Ontario isn't alone in this journey; Nationally 69% of the workforce is above the age of 35 while Ontario also falls at 71%. We can also see the effects of this workforce change across Canada in other ways. The amount of manufacturers who identify Low Number of Applicants as a cause of for hard to fill vacancies has been rising across Canada and has the largest growth among all causes identified moving from 51% of employers in 2016 to 71% of employers in 2018; again showing a need to identify new target populations for recruitment.
Target Populations
But who can manufacturers target? The easy answer is underrepresented populations; such as Women, Youth, Persons with Disabilities, Indigenous Peoples or New Canadians. For example, women in 2018 made up 27% of the manufacturing workforce across Canada however according to Statistics Canada, women make up 50% of the National population; which leaves a large part of Canadian population that could potentially be brought into the manufacturing workforce. Now that we've considered which groups we may want to target, the hard part is How - how do we attract them, how do we get them in through the doors and into a role and how do we retain these groups?
Unfortunately, this question doesn't have an easy answer as it really depends on the group you are looking to target and what the needs of your region are. The key is to start thinking outside of the box and outside of what we normally do. For example, if you're looking to attract more Youth can you look at creating more work integrated learning opportunities at your organization, can you spend more time in the community promoting the sector to Youth or to retain these employees do you need to adjust your current practices to suit their needs? Ontario East Economic Development recently publish an e-book with some great tips on attracting the younger generation, What's Keeping the Next Generation from a Career in Manufacturing, including promoting the flexibility and work life balance of a career in Manufacturing.
They note that 19% of Generation Z and Millennials say that the most important employee benefit is flexibility; and that manufacturing careers don't require work to be taken home allowing for higher work life balance and time to focus on developing other interests outside of their career.
Training and Developing the Workforce
When manufacturers in Eastern Ontario were asked "What are the causes of hard-to-fill vacancies", 80% of employers identified Applicants Lack the Skills Required as their top cause with Low Number of Applicants (75%) and Applicants lack the work experience required (71%) following in second and third.
But again, Eastern Ontario isn't alone, with Ontario and Canada LMI showing a very similar pattern.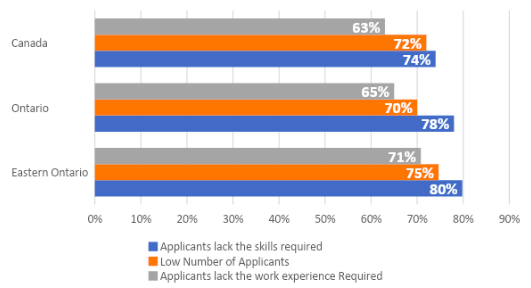 Is the Manufacturing Sector Falling Behind?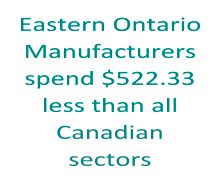 Eastern Ontario is heading in the right direction with training as 95% of employers asked identified bringing existing staff skills up to where they need to be as one of their top reasons for offering training. Manufacturers in the region spent on average $366.67 on training per employee in 2018. The Ottawa Region has the highest investment per employee out of Eastern Ontario, having spent on average $700 per employee. In comparison manufacturers in Ontario as a whole spent only $236.24 per employee while nationally manufacturers spent $370.51 per employee in 2018. However when you consider that employers in all sectors across Canada spent on average $889 per employee on learning and development in 2016-17, it could be said that the manufacturing sector is falling behind in learning and development and are not spending enough on developing their talent. Though manufacturers in Ottawa are closing the gap, they still spent $189 less per employee. On top of this only 67% of employers in Eastern Ontario and across Canada carry out structured learning activities. This leaves 33% of manufacturers who don't provide any learning opportunities, unfortunately causing them to become less competitive. By focusing on developing the current workforce, organizations could see a reduction in their voluntary turnover as well as an increase in employer engagement.
Overall the story that LMI is telling us in Eastern Ontario and across the country is one of a skills shortage and a shortage of workers in general. As mentioned a few times now, Eastern Ontario isn't alone in these struggles but LMI can help us to understand the scenario we are in as well as help us to develop solutions. As Excellence in Manufacturing Consortium always says "Share and Steal with Pride"; take the time to learn and collaborate with your peers around you and tackle the issue together.
About ManufacturingGPS and How to Gain Access to this Valuable Tool
Along with the LMI already mentioned, manufactures, educators and manufacturing stakeholders can gain access to data including wage and benefit data, projected future graduate numbers, difficult to hire roles and so much more. ManufacturingGPS is a fully searchable LMI system that supports benchmarking, offers skills and capability resources, reports, and an outreach portal to influence and inform competitiveness and growth of manufacturing across the country. With GPS, LMI can be examined at the broader macro level, or can be explored at the micro-level detail, helping industry and partners to track emerging workforce trends and occupational intelligence. Data can be filtered at the national, provincial and regional level. Examples of some regional filters for Eastern Ontario include areas such as Ottawa, Peterborough and Belleville.
A partnership program is available with manufacturing stakeholders to continuously grow the numbers of participating firms, educators and communities and share LMI resources for sector planning decision making.
To get involved in ManufacturingGPS as an employer, all you have to do is participate in a 30 minute survey and can be done online or over the phone. Once your GPS survey is completed – you will receive instant access to all ManufacturingGPS Benchmarking Reports. All data collected from employers is kept confidential and is only reported on in aggregate.
Click here to view ManufacturingGPS video.
References:
Statistics Canada. https://www150.statcan.gc.ca/t1/tbl1/en/tv.action?pid=1710000501&pickMembers%5B0%5D=1.1&pickMembers%5B1%5D=2.1
Ontario East Economic Development E-Book: What's Keeping the Next Generation from a Career in Manufacturing. https://offers.ontarioeast.ca/get-the-career-in-manufacturing-e-book
The Conference Board of Canada. https://www.conferenceboard.ca/press/newsrelease/2018/01/31/canadian-employers-investment-in-employee-learning-and-development-continues-to-rise?AspxAutoDetectCookieSupport=1